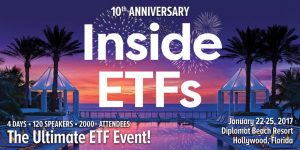 January 22-25, 2017
WallachBeth attended the Inside ETFs Conference in Miami, FL.
About Inside ETFs
Everything ETFs
Our speaker lineup will provide you with not only critical macro insights but also actionable portfolio strategies from the leading ETF institutions and ETF advisors.
ETF University
To build a portfolio based on ETFs, you need to understand the types of ETFs available, how they work, and which ETFs are appropriate for your portfolio. ETF University covers everything from ETF Fundamentals and Risks to Smart Beta to How to Launch an ETF. Accepted by CFP and CIMA for 12 CE credits each.
Over 2,000 Connections
As the world's largest ETF conference, Inside ETFs gives you the unique opportunity to network with over 2,000 financial advisors, ETF strategists, and the leading ETF institutions. Find new opportunities, trade investment strategies, and establish new connections with your peers in the ETF space.